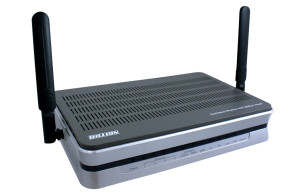 Triple-WAN Dual-Band Wireless-N 600Mbps 3G/4G LTE VoIP VPN ADSL2+/Fibre Broadband Router
The BiPAC 7800VDOX is a fibre-ready triple-WAN ADSL2+ dual-band modem router, an all-in-one advanced device including concurrent dual-band Wireless-N 600Mbps (2.4GHz and 5GHz), Voice over IP, Gigabit Ethernet, 3G/4G LTE, and NAS (Network Attached Storage) in one unit. It comes equipped with the latest high throughput VPN technology to fit the needs of SOHO and office users. As well as being IPv6-capable, the BiPAC 7800VDOX ADSL2+ router supports superfast fibre connections via dual-WAN connectivity through a Gigabit Ethernet WAN port. Also, embedded in the telephony functions are VoIP, automatic fail-over and least cost routing capabilities. It also has a USB port, allowing the device act as a print server as well as a NAS (Network Attached Storage) device with DLNA (Digital Living Network Alliance) and FTP (File Transfer Protocol) access. Moreover, the USB port can host a 3G/4G LTE modem connecting to the 3G/4G LTE network for Internet access.
With an array of advanced features, the Billion BiPAC 7800VDOX delivers a future-proof solution for ADSL2+ connections, superfast FTTC and ultra-speed FTTH (Fibre-To-The-Home) network deployment and services.