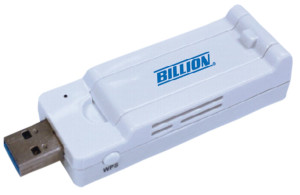 Boost your home or office wireless network with extremely high-speed dual-band!
Billion BiPAC 3010A is an extremely high-speed dualband USB adapter. It comes with the next-generation Wi-Fi standard -802.11ac, three times faster than wireless-N speeds and sixteen times faster than wireless-G speeds. It is users' superior choice for seamless HD video, online gaming, file sharing and other bandwidth-intensive tasks. It supports extremely high transfer data rate, up to 300Mbps upload and 867 download data rate via 2.4GHz and 5GHz bands (selectable). It also provides wider wireless coverage, so you don't have to worry if your computer is far from your wireless access point.
Dual-band technology avoids interference, ensuring extremely fast speeds. The BiPAC 3010A is backward compatible with Wireless-a/n devices, while operating at 802.11ac data rates. It is also backward compatible with Wireless-a/b/g devices while operating at 802.11n data rates, allowing for hassle -free connectivity and flexibility. The 5GHz band allows you to take advantage of a far less congested band, unlike 2.4GHz band which is generally congested. The BiPAC 3010A featured with a 180 degree adjustable foldaway antenna. Users canadjust the antenna' s angle for optimum wireless performance.
The BiPAC 3010Asupports both 64/128-bit WEP (Wired Equivalent Privacy) and Wi-Fi Protected Access (WPA/xWPA2) for secure wireless LAN connections. It also supports WMM (Wi-Fi Multimedia) which ensures stability and performance for multimedia applications by prioritizing the traffic.